VOLUME: FITTED, XXL, OR SOMEWHERE IN BETWEEN?

Cecile Mataillet
Playing with proportions and volumes can be a great way to add interest to your look. From sleek, fitted pieces to dramatic XXL designs, there's a whole host of options out there. The trick is to work out what sizes and cuts look and feel best on you, and how to style these pieces for maximum effect. Yes, you can wear an oversized top without feeling swamped… and "fitted" doesn't have to mean tight and restrictive.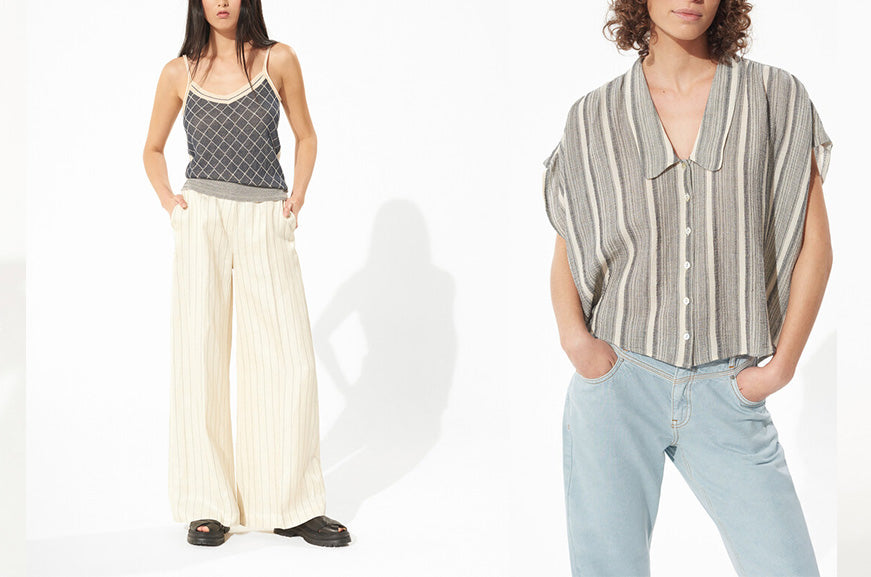 "Our stylists have specific proportions in mind when they come up with their initial sketches. Then we'll discuss and adjust things as we move through the design process", explains Mélanie, head of the Cotélac development studio. "We work out widths – and lengths – based on our sizing scale".
But garment dimensions can still change over the course of the development process. "There can even be a difference between what we see in the pattern and the final result, due to the washing processes we use during testing. But since we work with measurement ranges, rather than strict figures, we can always make adjustments so that product fits into the right category".
The description of the way a top is cut – like the ones you'll find in our product descriptions on the website – will give you some idea of how a piece will fit you, but it isn't always enough. "There are two things that affect the fit of a garment", says Mélanie: "the structure, and the way you want to wear it. That's different for everybody. A useful tip is to compare a piece with clothes you already own".
Thankfully, the specific measurement criteria used to define sizes and cuts can also act as a guide.
These are different for tops and bottoms.

Top sizes are based on half-bust measurements (across the front), using the following dimensions (cm).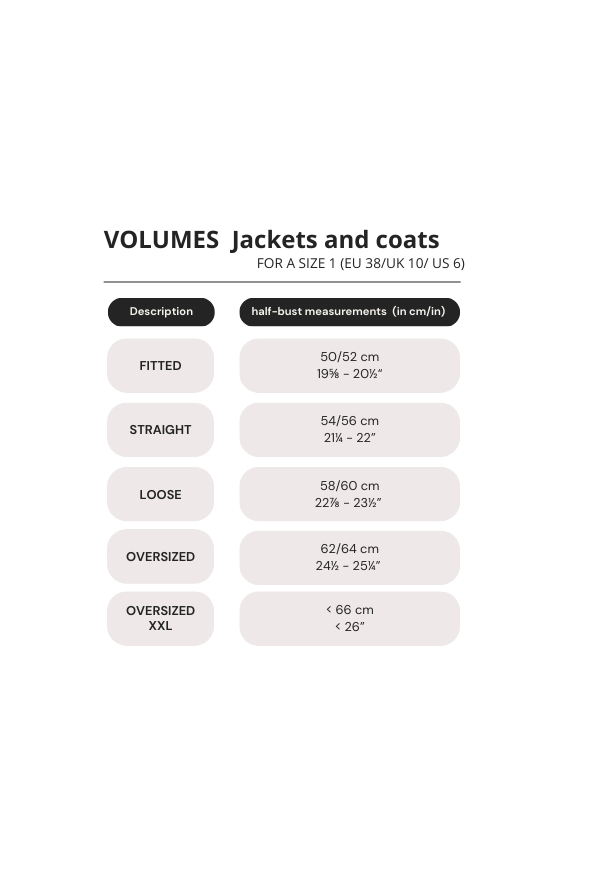 For outerwear pieces, the half-bust measurement is increased by 2 cm to account for what you're wearing underneath.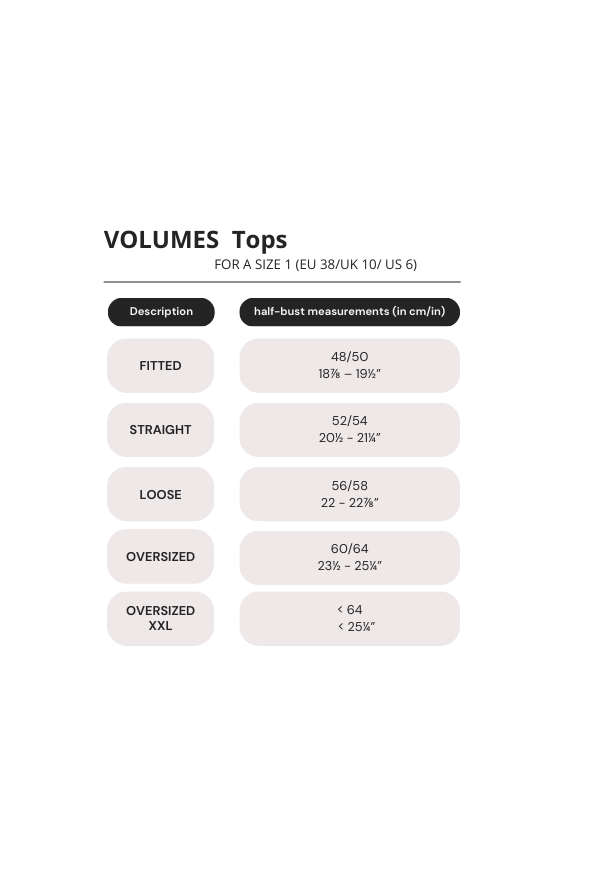 At Cotélac, we're particularly fond of the "boxy" cut: a straight cut, with a length almost identical to the width (as 52/54 cm for size 1).
Getting the right size is key to achieving a comfortable, flattering look
If you like to wear your clothes loose, XXL oversized pieces might be right up your street: done right, you can achieve a look that's truly elegant without sacrificing comfort. Done wrong, though, you can feel swamped, or look like you're completely out of proportion.

A more tailored, fitted cut can highlight your figure, creating an elegant, sophisticated style. Once again, getting the size right is key: you don't want to feel cramped or limit your range of movement. A piece that's too tight can look cheap, and you won't feel comfortable or confident.

In short, the size and cut of top you choose depends on your personal preferences and body shape. They key is to find the right balance between comfort and elegance, with pieces you feel comfortable in and that help you look your best. Why not try a range of different sizes and cuts to see what works best for you?