Know-how
During her fine art studies in Lyon, Raphaëlle Cavalli bridged the gap between contemporary art and crafts.
Her love of working with materials has always been at the heart of Cotélac's creative ateliers. Each
piece is pleated both manually and mechanically, in a movement that makes it unique. Rare.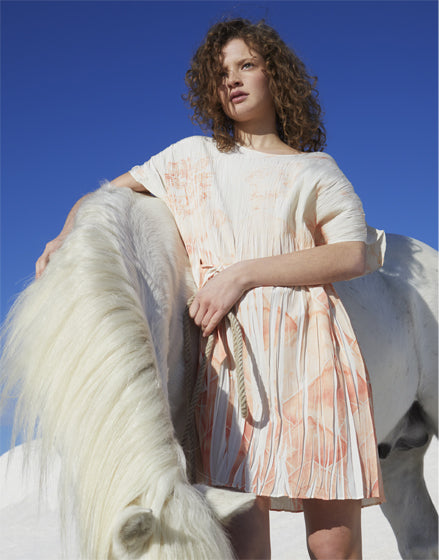 Cotélac's success is inherently linked to the quality of its clothes and to its one-of-a-kind savoir-faire, immortalized in its design studios.
Deeply touched by graphic creation, through its own work on patterns, Cotélac is also interested in contemporary illustrations.
The brand's history weaves together research and state-of-the-artness, entwines the style and the pursuit of processes beyond compare.

Cotélac is renowned for its remarkable patterns, created in its studios. They are the graphical representations of its inspirations, a treasure trove of sea-beds, children's sketches and delightful animals.

Raphaëlle Cavalli's brush strokes are simple and poetic, a filagree of cuts that emerge in the workshop, with exact proportions that reflect today's zeitgeist.
Enjoyment in seeing where something goes, giving free rein to the imagination and throwing oneself wholeheartedly into one's work are the incredible values that make this company stand out from the crowd. The proof is in the pictures showing a collection that is as exclusive as it is exceptional through its motifs.
This is how Raphaëlle invented a whole aesthetic identity. As
an artist, she displays incredible mastery in the way she plays with almost
pointillist motifs and colours. Extensive work executed with the greatest freedom,
and insistence on the beauty and hand-made nature of each individual garment
have established a certain fame that has grown internationally.