CAVAALI INDIAN PRINT

Alice PERRIER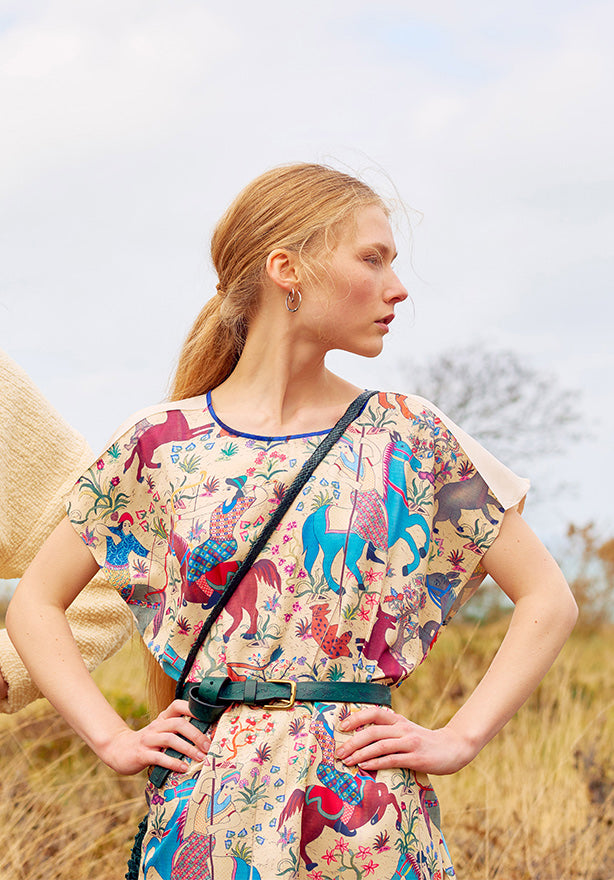 A BEAUTIFUL DANCE
Fall Winter 2019
What can we say about the exclusive Cavaali Indien print with its amazing patterns that are as amusing as they are mysterious? Yes, there are people, animals and gardens, in a pattern, and on a noble fabric. An endearing touch that simply becomes one with the silhouette.

Inspired by Indian engravings, this print takes us on a journey across India, immersing us in its tales, the story of its horsemen, its animals and the encounters that fashioned the history of the country. All in a colourful ambiance that admittedly asserts itself through power, but with the utmost delicacy.

The Cavaali Indien is intended to be traditional, enchanting, cheerful and to excite curiosity and admiration. Its blend of people, flora and fauna proudly proclaims the harmonisation of living things across the ages.

An exclusive in-house print by Cotélac with the disconcerting originality to which the fashion house has the secret.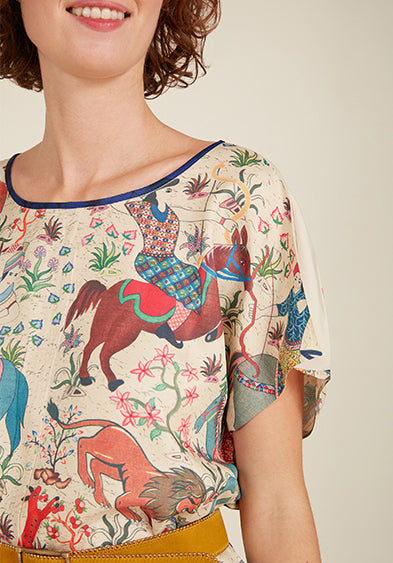 A print that benefits from a technique that brings into play the savoir faire and artisanal skill of our workshop.
In order to perfect each piece, the printing is carried out by sublimation in our workshop.

The envelope is the first step in appreciating the content of a work of art. And that is why our workshops - in France, make the handling of the materials a point of honour. Pleating, sublimation, hot pressing - all the savoir faire of a French fashion house tucked away in the heart of the Ain department.

Based on experience, an aesthetic touch, precision in finishing, inlay of materials, all-singing, all-dancing machines - a story that begins within our Fashion House and continues with you, in store, and then in your wardrobe.

"With Cotélac, the ballet of living things appears in the guise of the exclusive Cavaali Indien print".