EXCLUSIVE E-BLOOMST PRINT

Cecile Mataillet
PRINT & TRANSPARENCY
Fall / Winter 2019
A floral and botanical inspiration, the vulnerability of skin respected by the soft caress of silk, designs created in watercolour showing a shadow of Japanese gardens and a statement of flowers and shades of red - a phenomenon represented by an exclusive Cotélac print.

Through the fabric, the E-bloomst print represents a flowing ballet of botanical shapes, with transparent details. This motif is the very essence of feminine purity, a true hymn to freedom. Worn next to the skin, it fits the body perfectly and offers a feeling of comfort. As a dress, a shirt, a blouse or a skirt, the fashion house's savoir faire is evident in every detail.

Autumn 2019 is an introduction to the innocence of the heart through the wonder experienced at the opening of a flower or the diffusion of a sweet floral perfume.

E-bloomst celebrates feminine charm whilst echoing the creative force of its innocence through gentle natural inspiration.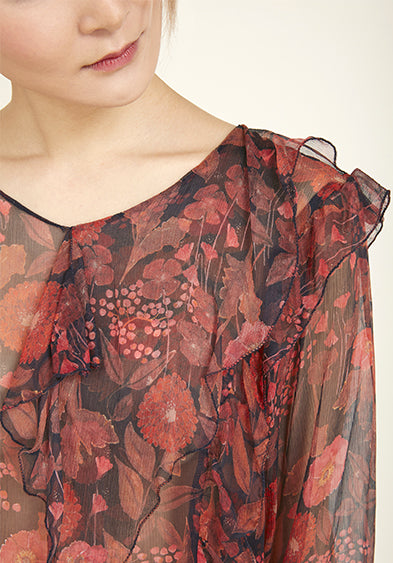 Silk crepe is a noble fabric that is both light and durable. Like a fine caress, it can be worn next to the skin, with gentleness.

A joy that seems to carried by the wind, a fluidity that tells of freedom of movement, a comfort which is the mark of delicacy in the contours and finishes, a transparency that is intended to be both revealing but also enigmatic, a technique that attests to meticulous workmanship and skill developed over the years, a flowing, ethereal garment - E-bloomst.

A mastery of the set of pleats which gives the piece an understated aesthetic enhanced by details or ruffles. An air of unpredictability and amazement - enlivened by a dominant red.

The juxtaposition of a noble material and creativity for a truly enchanting result.