WOVEN BAGS

Cecile Mataillet
THE MAKING OF A CLASSIC
"We love to feature woven bags in our collections because of their irregular, unstructured and nuanced aesthetic. They fit our Cotélac style perfectly",says Valérie, our head of accessories."Our woven leather bags are made using time-honoured artisan crafting techniques, transmitted from one generation to the next. We've been working with the same specialist workshops in India for over a decade now".
The bag-making process starts in one of two ways: with a flat woven mat, or by weaving strips around a last (mould) to create a specific shape. Once complete, pieces are hand-polished using rosewood to bring out the natural beauty of the leather. Artisans work on each strip of leather individually, spending hundreds of hours to create unique pieces with the perfect blend of modernity and timeless style.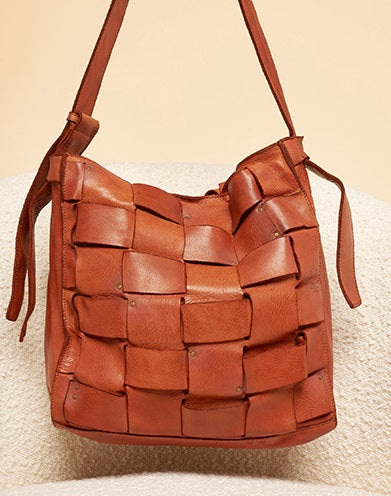 Some of our bags are piece-dyed, a process where colour is applied to the finished article rather than the raw materials. This technique produces a unique, textured look and an exquisite depth of colour, particularly on woven leather. The irregular result is part of what gives the bags their personality, making each piece unique and exclusive.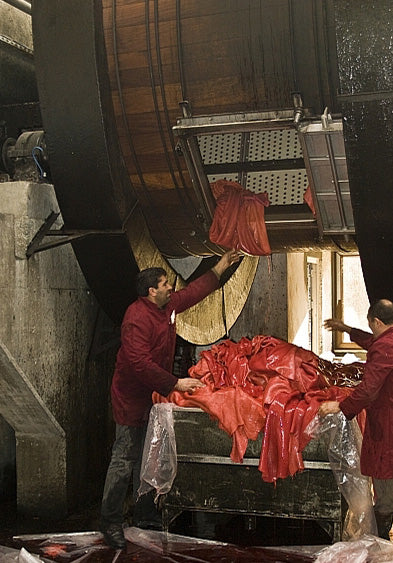 The majority of the leather we use is tanned using plant-based products, derived from wood and other plant tannins. The result is an authentic-looking leather in deep, rich, and varied tones. Over time, our bags take on a patina which adds to their charm and brings out their natural beauty. These leather pieces are made to last: wear them for years, then pass them on as heirlooms!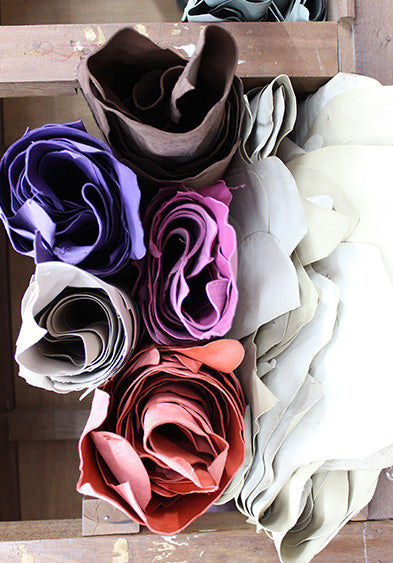 On the topic of leather itself, Valérie's views are clear: "animal leather is a naturally eco-friendly material, because we're using skins that would otherwise be thrown away by the meat industry. These skins are hard to dispose of and there's a significant amount of pollution involved in their destruction. So instead, it just makes sense to transform them into objects of value, things that can be kept and used for years".
Caring for a woven bag
Woven bags, by their very nature, tend to collect dust faster than smooth leather pieces. Over time, this build-up can affect the look of your bag, so you'll want to clean it regularly. Simply take a soft brush and pass it gently over the surface of the dry leather.
Another option is to use a soft, slightly damp cloth, which will help to bring out the colour and shine of the materials.
You can also treat your bag with a specialist care product from time to time in order to nourish and protect the leather.
When you're not using your bag, we recommend you keep it in its protective pouch, in a dry location out of direct sunlight.
Prolonged exposure to the sun's rays can modify the colour of the leather.
If you haven't used your bag for a while, give it a quick wipe with a dry cotton or wool cloth to bring out its shine.
Avoid prolonged contact with wet surfaces, and never use detergents to clean your bag.