WHAT ARE YOU REALLY WEARING?

Cecile Mataillet
More and more consumers are beginning to ask what actually goes into the fabrics they're wearing, meaning that the fashion and textiles industries are coming under increasing scrutiny.
At Cotélac, we're all in favour of transparency, so sit back and let us tell you all about the different fibres we use!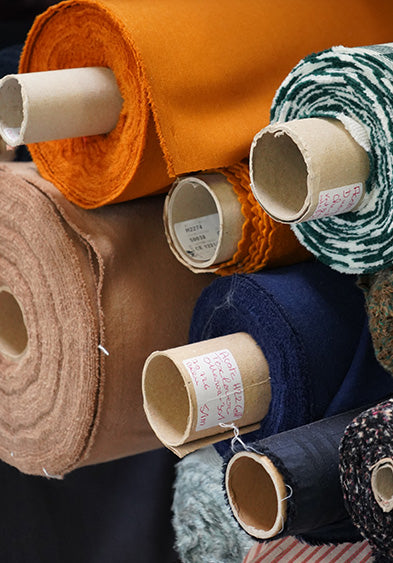 Our design process often begins with raw materials, rather than ideas for garments."We select yarns or fabrics from trade fairs based on their look, their feel and their technical properties", explains Assistant Style Director Janelle Cox."We'll order in samples, and only then do we start to think about designs using these specific fibers". Assistant stylist Céline Wolf highlights the unusual nature of our methods:"This way of working is something I'd never come across before joining Cotélac"."We don't seem to work in the same way as other brands", adds Nathalie Carrera, one of the stylists in our studio.
design process often begins with raw materials, rather than ideas for garments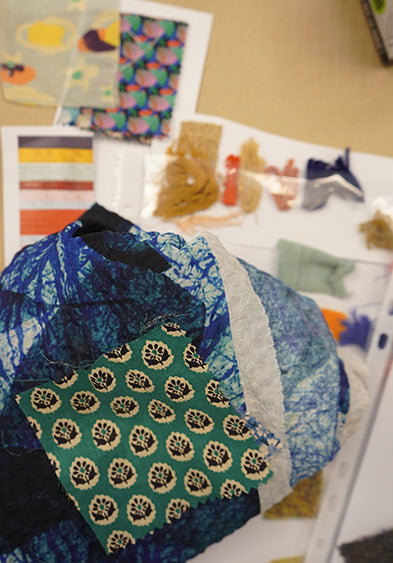 "It all comes back to Raphaëlle's vision and way of doing things*. Coming from an art school background, she's always put materials first. Of course, we do our research beforehand, so we have some idea what we're looking for at a trade fair, but the fibers are always a major source of inspiration for our collections".
So what makes one textile different from another? A variety of different factors are involved, including the way the yarn is processed, the manufacturer's skills, different dyeing procedures, and finishing treatments (wash, texturing, etc.).
*Raphaëlle Cavalli, creative director of Cotélac
The fibers are always a major source of inspiration for our collections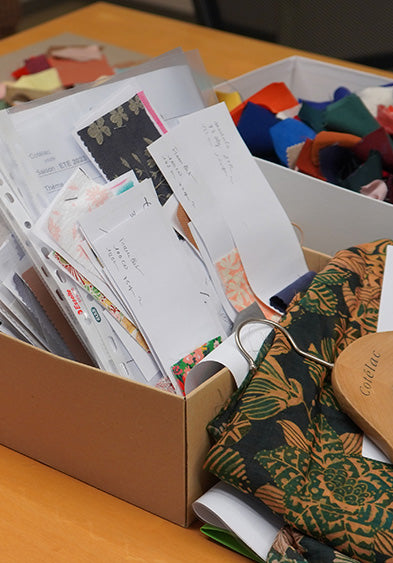 "Different countries produce fabrics with different qualities, different looks",says Janelle. "Even in the case of artificial fibers, there can be significant differences. Korean and Japanese textiles, for example, have a much more natural feel than others". Some of our emblematic pleated or shirred effects can only be created using synthetic fibers – but not all synthetic fibers are made alike."It's easy to say that we should stop importing fabrics from Asia, but in practice, it isn't that simple! Obviously, we want to prioritize local production, but sometimes, essential skills and techniques simply aren't available closer to home". We prefer to use natural fibers wherever possible, so synthetic fiber content is another element we take into account in the sourcing process.
We try to strike a delicate balance between prioritizing natural fibers and respecting technical constraints
A focus on organic and sustainable fibres
Thankfully, it's getting easier to find organic and sustainable fibres."For many years, they were a rarity, only found in a specific area at trade fairs", recalls Nathalie."They're more common nowadays, and that's great!". Organic and sustainable fibres play an increasing part in our collections, even where we use synthetic fabrics, where there's an increasing focus on using recycled fibres."We try to be as careful as possible, but it isn't always easy",says Nathalie."Things aren't all rosy in this area, either. I remember hearing about a polyester manufacturer that was producing plastic bottles so that they could "recycle" them into their own fabric. What a scam!"
"We don't use plastic buttons", says Céline Wolf. "We use mother-of-pearl from pearl oyster farms, or Corozo". Corozo, or "vegetable ivory", comes from a fruit which grows naturally on palm trees in tropical forests. "It's very hard wearing and easy to dye, and it's much prettier and ages better than plastic!"
Bamboo, paper, kapok and more
We use a wide variety of composite fabrics in our collections, including some quite unusual fibres. Paper, for example, is great for making pieces with a dry, cool look and a unique feel. Bamboo fibres require 4 times less water to cultivate than cotton. Another alternative plant fibre, kapok, produces lightweight, silky textiles. Some of the other fibres we use are more familiar, but that doesn't always mean they're well understood. Viscose, for example, is a soft, flowing fabric made from wood or bamboo fibres."Once again, there are differences between brands: each has their own formulation and their qualities and properties can vary", indicates Nathalie. "At Cotélac, we use Cupro". This heavy, silk-like, cellulose-based fibre is made using environmentally friendly processes. Our Cupro® is produced by Asahi Kasei Corporation in Japan, the only company to hold the OEKO-Tex Standard 100, GRS (Global Recycled Standards), Eco Mark and LCA (Life Cycle Assessment) labels.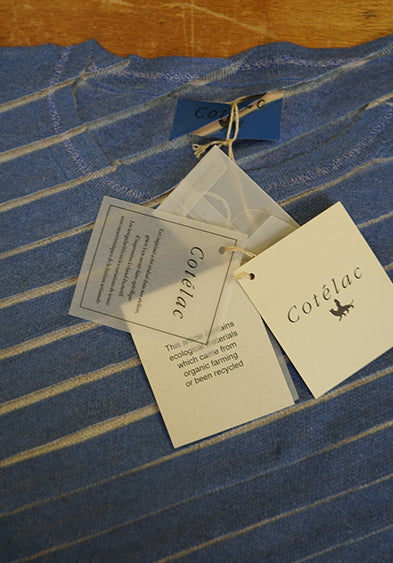 This article contains ecological materials which came from organic farming or been recycled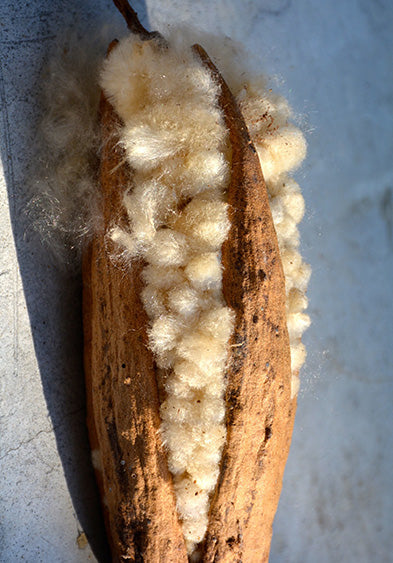 Kapok fibre is completely natural and comes from a fruit very similar to cotton.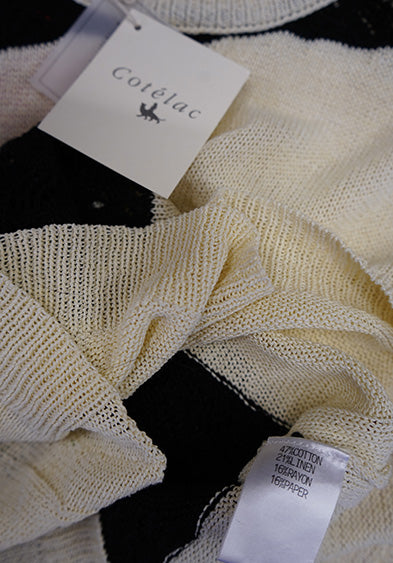 Combined with cotton and linen, paper is great for making pieces with a dry, cool look and a unique feel.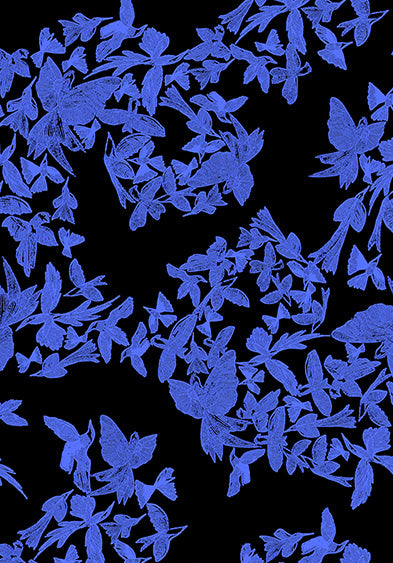 The way fabrics are printed is also important."We do our very best to guarantee quality throughout the whole process", highlights Janelle. The choice of printing process depends on a variety of technical constraints. For example, for designs with lots of different colours, an inkjet process is likely to be best. If a fabric is going to be reworked, pleated, or shirred, however, we might opt for sublimation, a versatile technique which produces indelible motifs. Sublimation printing only works on fabrics with over 50% synthetic fibres, or the dye won't fix correctly; however, it offers endless possibilities in terms of customization.  "At the end of the day, we prefer to use traditional printing techniques wherever possible",explains Janelle.
we prefer to use traditional printing techniques wherever possible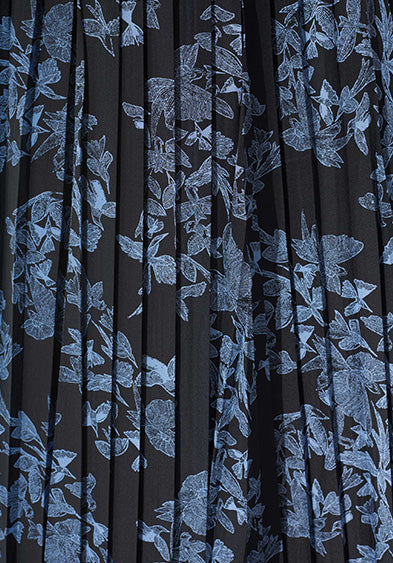 "But that means engraving a separate roller for every colour we're using, so it isn't an option for all prints".In terms of quality, traditional printing techniques create images that won't fade over time, as the dyes soak right through to the heart of the fabric.
For the last fifteen years, Cotélac has worked with French fabric printers in order to support local manufacturing and preserve historic skills. Partners include theAteliers d'ennoblissement textile de La Turdinein Tarare, near Lyon, and a workshop at Saint-Savin in Isère which specialises in engraving rollers for textile printing. These companies share our commitment to traditional methods and to upholding the values of French textile production.
Murmuration design was folded in our workshops near Lyon.