WHAT IF WE WENT THROUGH THE LOOKING-GLASS?

Cecile Mataillet
In the sequel to Alice in Wonderland, "Alice is bored, falls asleep in an armchair and dreams that she climbs through the living room mirror"… She arrives in a fantastical world where flowers talk, a learned egg walks on a wall, and where alongside the White Queen and the Red Queen Alice will have to play a game of life-size chess. This view of the world imbued with wonder, poetry and quirkiness, so typical of Lewis Caroll, inspired us to create new exclusive prints in keeping with the themes of the book "Through the Looking-Glass".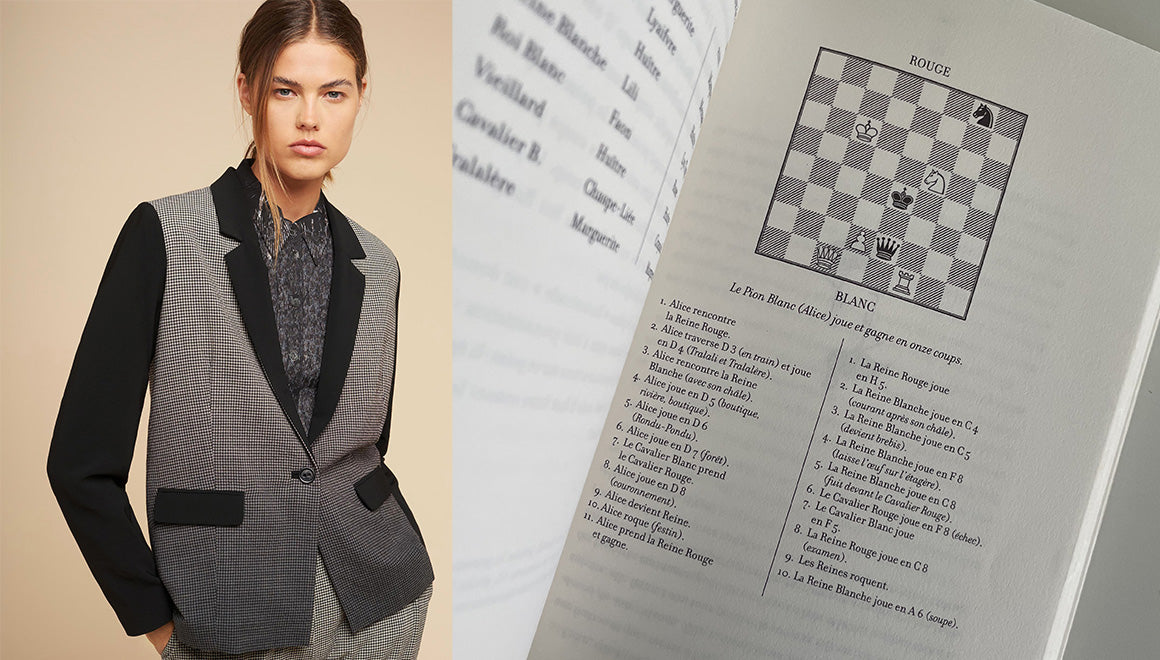 LIFE-SIZE CHESSBOARD
Standing on a giant chessboard, Alice moves from square to square in a world made up of square fields divided by streams or rivers. And while she is only a pawn at the start of the Game, she will finish as the Queen. We adopted the squares and contrasting tones from this chessboard.
Here, the idea of a chessboard but in a miniature version.
Mini checks sublimated with gradated black tones in our Workshop: we play with colour contrasts!
With its two contrasting sides designed in two different fabrics, this piece perfectly embodies the idea we have of an upside-down world, "Through the Looking-Glass". The two sides of the chess game become reality. One side reflects the other, but the reflections are not quite the same... Could it be our imagination playing tricks on us?
Brown hues in the yarn-dyed checked themes of the "Moka" collection.
Or discreet checks in a yarn-dyed subtle blistered fabric.
Inspired by the plant world of landscape gardens and the squares on our imaginary chessboard, our "Bien cadré" design is printed piece by piece on washed silk. And when it is sublimated in our Workshops in the Lyon region, the same pattern is transformed, becoming a darker tone to tell another story.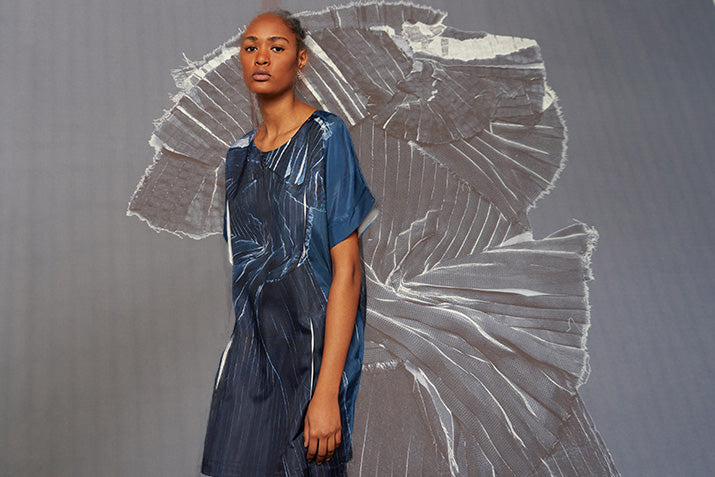 FANTASTICAL DRESS​ 
It was Alice's dress that inspired our "Œillades discrètes" print: an imaginary pleated dress, printed on another dress and a blouse, this time very real! This involves two successive sublimation processes: one for the blue and a second to print the design. Is it a pleated dress? Is it a tied dress? Our print plays with reality.
For "Le grand bleu" theme, we started with the design of Alice's dreamed dress, then we chose a raw gabardine fabric in off-white.
After final sublimation by an artisan in our Atelier Workshop in Ambérieu-en-Bugey, our jacket is totally transformed!.
INFINITE REFLECTION
Like ripples in water, our "Les Corolles" print, designed, engraved and printed in the Lyon region, seems to repeat itself endlessly on the elegant softness of the silk cotton dress and blouses, or on the little boutis-style jacket that almost caresses the skin…
And when sublimated in our workshops in the Lyon region, the same print is transformed into a darker tone to tell a different story.
A STROLL THROUGH A "SO BRITISH GARDEN"
I've been in many gardens before, but none of the flowers could talk (...)- In most gardens, the Tiger-lily said, too soft soils are prepared - so that the flowers are always asleep.This sounded a very good reason, and Alice was quite pleased to know it."
In his novels, Lewis Carroll constantly plays with the absurd and what makes no sense... And so do we! This concept inspired us to print elaborate, sophisticated patterns on simple, comfortable materials, such as fleece or cotton sweatshirts.
Materials that are frequently used for training and sportswear...


For example, this athlesiure jogging set embellished with delicate floral graphics

So, if one day in your daydreams you find a magic mirror, climb Through the Looking-glass and join us.